All of us know that small towers are really portable but did you ever thought of Mid Towers, does the motherboards fit well with these mid tower PC cases or do you require to change your motherboards with the towers too?
So, what is the difference between the atx mid tower cases and the full tower cases? When you go for a mid-tower case or a full tower case there are few things to consider like motherboards, graphics card, pc case fans and expansion slots.
There are many questions you need to get answered like
How many case fans can you put inside your tower?
How many graphics card can you install?
Which motherboards does the cases support?
To answer all these above questions, we have put a table below:
Full Tower vs Mid Tower
| | | |
| --- | --- | --- |
| Slot | ATX Mid Tower | ATX Full Tower |
| Motherboards | Mini-ITX, MicroATX, ATX | Mini-ITX, MicroATX, ATX, EATX |
| Graphics Card | 2-3 | 3-4 |
| Fan support | 6-7 | 10-15 |
| Expansion slots | 5-8 | 7-10 |
| Water cooling | N/A | Yes |
| Air Flow | Yes | – |
| Silence | – | Yes |
| Cable Management | Yes | – |
| Common Use | Workstation, PC for Gaming | Video Editing, Home Servers |
When should you buy ATX full tower cases?
Full tower cases are heavy and spacious for installation of multiple expansion slots and at the same time they are costly. Therefore, you need to aware whether you actually need it or not!
If you already have or want to install a larger motherboard or need to configure 3-4 graphics card for your work, you need an ATX full tower cases.
Since full tower cases are used for heavy work and you need your PC to remain cool. For this, you get enough space to install multiple fans and water cooling system.
Sometimes you might want to customize your PC with RGB lighting and custom designs, in ATX full tower cases you can do all your customizations very easily.
When should you buy ATX Mid tower cases?
No doubt that ATX mid tower cases are not so expensive and still can hold some of your customization.
Therefore, if you need to just small customizations or 1-2 GPU configurations with your standard or micro ATX motherboards, you should go for the mid tower cases.
ATX Mid Tower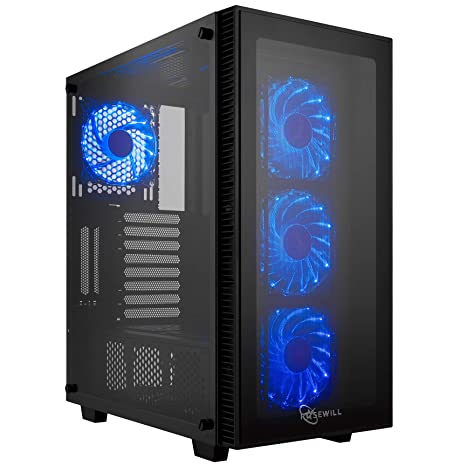 ATX mid tower cases are shorter and lightweight than full tower case but at the same time you can use 2 LAN parties.
Since, here we are not to tell you which one is better for your gaming needs, so we will only be discussing about the differences between the atx mid tower and atx full tower cases.
So, let us under what does a ATX mid tower case generally offer?
The Mid tower case as the name suggests itself is lighter, shorter and therefore has less slots for graphics card, fan support and expansion slots.
They generally have the option to install smaller motherboards like standard ATX and Micro ATX motherboards.
The slots for all the peripherals varies from one case to another and therefore you need to check out the specifications before going for mid tower cases.
So, if you have a EATX (extended ATX) board, then you will have to get rid of this before going for a mid-tower case as that won't fit to the mid tower cases.
Pros
Lighter than full tower cases
Compact as compared to full tower cases
Shorter in length
Cons
Less fan support
Larger boards can't fit (EATX)
ATX Full Tower Case
ATX full tower cases are truly huge and measures around 24 inches. However, mid tower cases are generally around 18 inches in height.
Since, the full tower cases are taller and spacious, you would get a lot of room for multiple graphics card, case fans and even a water cooling system inside.
Large space means a good airflow to keep the system cool and therefore they are generally used for heavy works like Home servers, video editing and DAW.
You can also use a EATX board in a full tower case and so you don't have to worry about upgrading your PC with more bunch of computer peripherals.
However, the ATX full tower cases have a lot of advantages but they have some downsides too. They are heavy and not suitable for portability from one place to another.
The cost and weight of Full tower cases is also higher as compared to the mid tower cases.
Pros
More slots for graphics card
Ready to hold a larger motherboard
Multiple fans can be installed to keep the system cool
More ventilation of air
Numerous expansion slots available
Cons
Expensive than mid tower cases
Weighs more than atx mid tower cases
Our Verdict
ATX full tower cases can hold 12 case fans, 10 expansion slots and more than 4 graphics card. They are a bit expensive and their length is also quite huge. So, if you are going for a full tower case make sure that you have enough space to store this giant beast.
On the other hand, mid tower cases have compact design and easily transportable. Yes, they have a downside and they can't hold more case fans and also not compatible with all the motherboards, especially the larger ones.
If you are being curious and want to know the difference between the ATX and EATX motherboards, you can always move on to the article where we have put the differences between these two.
Related Questions
Can standard and micro ATX board fit in mid tower cases?
Yes, both standard ATX and micro ATX motherboards can fit into the mid tower cases. However, you always check the compatibility of the boards in a case at the time of buying.
Are Mid tower cases good for gaming?
Most of the gaming PC comes with a mid-tower case. The mid tower cases are big enough to fit everything required but you need to be sure when you want to install an extra case fan.
How Big is a Full tower case?
The standard size of a full tower case is 22 inches. The size changes from brand to brand but most of the brands usually come in 20×8 inches size.
Recent Posts